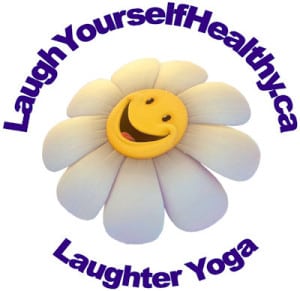 CARP Halton Chapter Community Meetings begin again in September and we will be kicking off our new season with a presentation that will show you how laughter can help you:
"Live Healthier! Live Longer! Live Happier!'
You must have heard the expression "Laughter is the best medicine" or who hasn't been told at some time or other to "Laugh it off". At our September Community Meetings our speaker will be Kathryn Kimmins who through the unique approach of "Laughter Yoga" will show us just how we can do that.
Kathryn's presentation will aim to leave us with the five following key messages:
• TAP into our inner child every day: play, dance, sing, clap, laugh
• LAUGHTER is serious business
• EXPERIENCE alignment of mind, heart and body
• CREATE powerful, even lifelong, connections with family & friends
• FEEL lighter, have peace of mind and be inspired to action
Kathryn is an infectiously and enthusiastic motivational speaker. She energizes her audience and directs unforgettable laughter experiences using a unique combination of laughter, deep diaphragmatic breathing, brain health exercises, reflexology, singing, dancing and child-like play.
Kathryn has been doing this for more than 9 years to businesses and community groups across Ontario. Her sessions create camaraderie in the spirit of friendship and community.
Kathryn was appointed as the Laughter Ambassador of Canada in 2O17 by Dr. Madan Kataria, founder of Laughter Yoga for her dedicated and selfless services to promote great health, joy and world peace, through Laughter Yoga.
Cheeks get rosy; eyes clear and twinkle; impish grins are everywhere to be seen; the room rapidly fills with friendly smiles and the air acquires the fragrance of joy.
Kathryn's educational and experiential presentations help people to connect and to express emotions freely.
Please join us for this very interesting. entertaining and informative presentation.
Our Milton meeting will take place on Wednesday September 11th from 7.00pm to 8.45pm at the Seniors Activity Centre, 500 Childs Drive, Milton.
Our Burlington meeting will take place on Thursday September 26th from 7.00pm to 8.45pm at the Seniors Centre, 2285 New Street, Burlington.
Doors will open at both locations at 6.30pm. The program will begin at 7.00pm and wrap-up at 8.45pm. Coffee and tea will be available. Treats for our Milton meeting will be supplied by Revera and at Burlington by Chartwell Retirement Residences. We would like to thank them for their generosity.
Please be aware that building safety code regulations govern the maximum number of people who can attend our meetings. If room capacity limits are reached we may have to restrict entrance in order to comply with those regulations.
As many of you will know our Community meetings are gaining in popularity and on occasion we have experienced a high level of attendance at Burlington. Once seating has been set out and people begin to take their places again for safety reasons we are not permitted to bring in more chairs as doing so increases the risk of accident or injury.
Since we hold exactly the same monthly meetings in Milton we encourage anyone who can do so to please consider going to Milton instead of Burlington.
Both meetings will begin with a short welcoming address and a brief update on your CARP Halton Chapter activities.
This will be followed by our featured presentation.
There will be a break at the midway point which will allow time to socialize with fellow members and to visit our sponsors. We encourage you to chat with our sponsors and gather more information about the services they provide. Halton Chapter thanks our sponsors for their support at all of our meetings.
This month our sponsors are:
Barwood Concierge: Personal Assistants to seniors. Assistance at its best.
MortgageAlliance (Iris Dowling): Iris is a Customized Mortgage Solutions and CHIP Expert
Burlington Memorial Gardens: Established in 1979, Burlington Memorial Gardens features over 100 acres of beautifully landscaped and immaculately manicured gardens. Part of the Arbor group of cemeteries and funeral homes, the property is part of the historic Niagara Escarpment.
Marion Goard, Sales Representative – Keller Williams Edge Realty, Brokerage: As well as being a licensed real estate professional, Marion is a Master Accredited Senior Agent® (M-ASA) and Senior Real Estate Specialist® (SRES®) specializing in helping Seniors' and their families through every stage of later-in-life real estate transactions.
Both meetings will conclude with a few closing remarks from Tom and our 50/50 draw. We encourage you to support this draw as proceeds help defray the costs incurred in putting on our meetings. The lucky winner at Burlington usually takes home well over $125.
Our meetings are FREE. All are welcome. Please support CARP Halton Chapter. We look forward to meeting our members and friends.