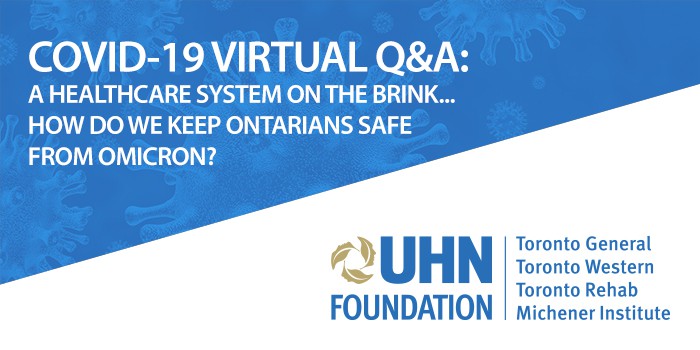 As we enter 2022, the Omicron variant has forced Ontario to pivot once again. Increased social restrictions, short-term school closures and changes to testing protocols are in place, and yet this COVID-19 wave is presenting a new set of challenges for hospitals and healthcare workers who are experiencing severe staffing shortages. How can we protect our essential workers as schools reopen and safeguard the community against further lockdowns and restrictions?  

Join us to hear directly from one of UHN's leading experts in COVID-19 infection control, Dr. Alon Vaisman, Infection Control Physician at UHN. Moderated by Christian Cote, host of UHN's Behind the Breakthrough podcast.

WHEN: Thursday, January 20, 2022
TIME: 5 – 6 p.m.
REGISTER: UHNfoundation.ca/livestream

Please note, we will be offering a phone-in option for those who would prefer to join the conversation by telephone.

Once registered, you will have the opportunity to submit your questions. 

Know anyone who might be interested in receiving these invitations? Feel free to forward the details along!