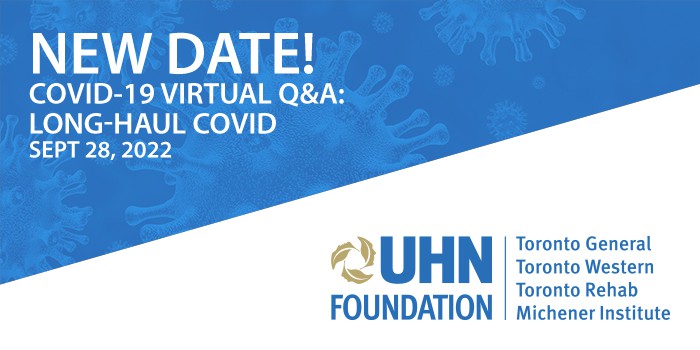 While public health measures around COVID-19 have been lifted in Ontario, UHN's world-leading scientists are still keeping a close eye on virus trends. Notably, this includes the increase in patients requiring treatment for long-haul COVID, the next phase of Omicron in Ontario and the need for fourth dose vaccinations.  

We are thrilled to be joined by Dr. Angela Cheung, Senior Scientist, Toronto General Hospital Research Institute and Division Head, Osteoporosis Program, Schroeder Arthritis Institute, UHN, and Dr. Alexandra Rendely, Physical Medicine and Rehabilitation Physician, Toronto Rehabilitation Institute, UHN, who are pioneering research on the symptoms and treatment for long-haul COVID patients.  

Moderated by Christian Coté, host of UHN's Behind the Breakthrough podcast.

WHEN: Wednesday, September 28, 2022
TIME: 5 – 6 p.m.
REGISTER: UHNfoundation.ca/livestream

Please note, we will be offering a phone-in option for those who would prefer to join the conversation by telephone.

Once registered, you will have the opportunity to submit your questions.