This page contains information that we believe is of value to our seniors demographic. Click on the titles of the following items to go directly to each of the websites. While we are not responsible for the content on these websites we believe you will find the information of value.
The Advocacy Centre for the Elderly is a community based legal clinic for low income senior citizens. ACE is managed by a volunteer board of directors at least half of whom are seniors. ACE is funded through Legal Aid Ontario and is the first legal clinic in Canada to specialize in the legal problems of seniors.
Please click on the following link: asbestos.com/mesothelioma/
You may also be interested in this link asbestos.com/mesothelioma/causes/. Here you will see detail on what are the causes of mesothelioma and whether a person should be concerned or not.
Mesothelioma is a deadly form of cancer caused from asbestos exposure. Due to the long latency period of mesothelioma, approximately 20-50 years, about 80% of those who are diagnosed with this terrible disease are seniors.
The Mesothelioma Centre works 1-on-1 with these individuals to help them find local doctors, treatment centers and support
Our team of Patient Advocates is committed to helping anyone affected by mesothelioma or other asbestos-related illnesses.
Help find the best doctors and treatment facilities near you
Connect you with local support groups
Connect you with our on-staff nurse
Provide custom literature and books on your diagnosis
Help veterans receive their VA benefits
Assist with financial and legal options
Halton Region's Older Adult Advisory Committee (OAAC) has worked diligently to provide a user-friendly reference guide with helpful information for older adults, caregivers and service providers in Halton. In this directory, you will find valuable information about local programs and services—including health care, financial aid, recreation and community support groups—which support a high quality of life for older adults in our community.
This website has a large amount of healthy aging information that you can trust.. Blog Posts are written by trusted experts to inform and inspire healthy aging. Scientific evidence is used to provide credible insights on hot topics and prevalent conditions related to seniors' health. Check it out and consider subscribing to their weekly newsletters which provide the latest information.
Cyber-Seniors invite C.A.R.P. members to share and use the Cyber-Seniors program to develop not just basic tech skills to help them cope with COVID19, but also to reach out to organizations that support, work with, and/or advocate for seniors.  Since COVID19 precautions have gone into effect, Cyber-Seniors has made their tech training resources available for free to all individuals and organizations during this pandemic, and tech training now takes place on a virtual platform in order to keep everyone safe and allow seniors everywhere to participate in the learning process.
Virtual tech training has allowed Cyber-Seniors to grow into an international organization, providing seniors with tech skills which became vital during the pandemic lockdown and continue to provide excellent coping abilities for seniors. Cyber-Seniors' regular programming is also expanding to include more specific and focused tech skill training, expanded webinar training and online activities, and more.
The following is quoted from the Cyber Seniors" website:
"Cyber Seniors' mission is to bridge the digital divide and connect generations through technology.  It does so through the development and dissemination of resources that enable community organizations to provide tech-training for senior citizens using an intergenerational, youth volunteer model. Youth are provided with lessons and learning activities to train them to act as digital mentors, and senior citizens gain access to effective technology training and intergenerational communities that keep them socially connected and engaged".
Cyber Seniors issue a weekly newsletter which provides information about their upcoming programs. Please contact them if you would like to receive their newsletter.  You can also visit their website or see the following for more information: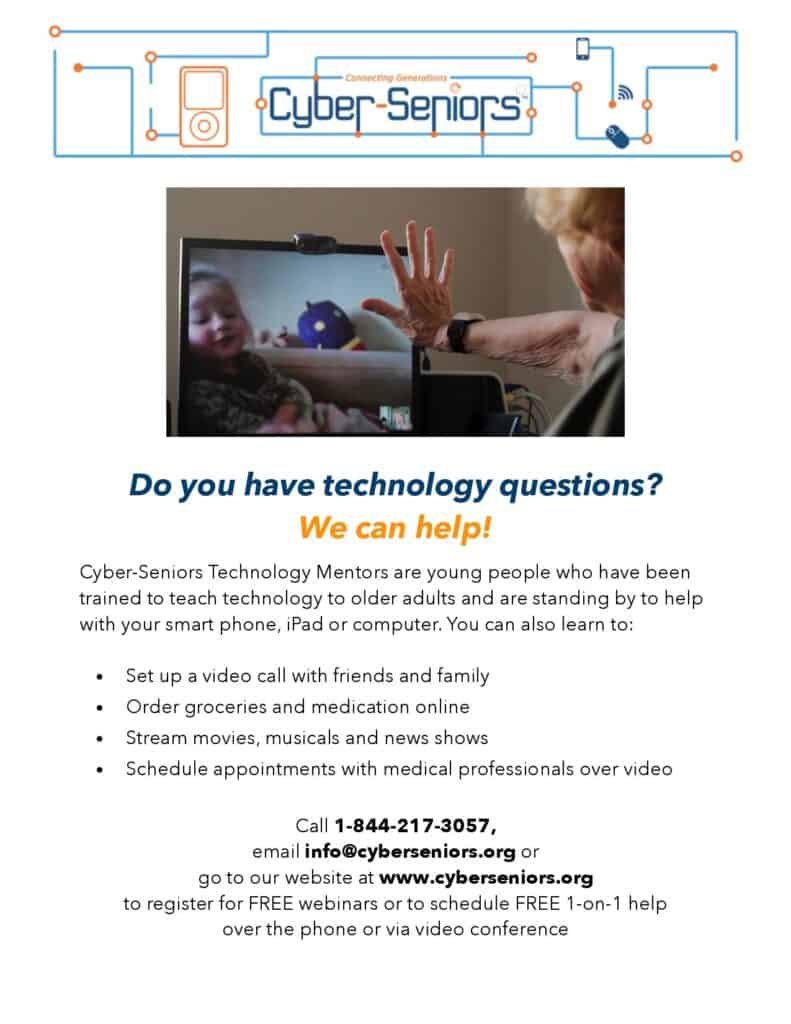 C.A.R.P. (Canadian Association for Retired Persons) is Canada's largest advocacy association for older Canadians. Today C.A.R.P. has more than 320,000 members. As a non-partisan association, C.A.R.P. is committed to working with all parties in government to advocate for older Canadians. Its mission is to advocate for better healthcare, financial security, and freedom from ageism. C.A.R.P. members engage in polls and petitions, email their elected representatives, connect with local chapters and share stories and opinions on urgent issues.
Copyright © 2020 Halton Seniors Advocacy Group